goSnipe
is amazing web service which lets you win eBay auctions / bidding by placing your bid at the last second. You can do this manually also, but sitting there in front of your computer and waiting for the clock to tick is one hectic task.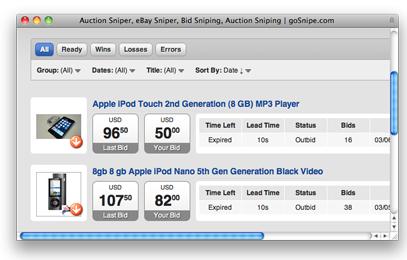 With goSnipe, your bid is placed on eBay automatically in the final seconds of the auction. You can mention your maximum bid to goSnipe, and this web service is smart enough to take care of your budget while placing bids on your behalf.
Since, goSnipe places your bid right on the last second, your chances of winning eBay auctions / biddings increases exponentially.
To use it, you need to register yourself to this web service. When you place a bid on eBay, click the bookmark and enter your highestbid, the price you are willing to pay to win the item in eBay auction / bidding. goSnipe monitors the auction and it will place a bid for that at last seconds, giving you more chances to win that particular eBay auction / bidding.
There is one more feature which make goSnipe an ultimate weapon to win eBay auctions. You can take part in multiple eBay bidding / auctions simultaneously for a same product, and once you win any of those eBay auctions, goSnipe will cancel the other bidding.
There are many ways to win eBay auctions / biddings, and using goSnipe is one of them.
Happy Bidding!!